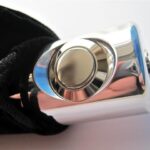 I was attracted to the Silver Bullet after watching a series of video reviews and reading a number of recommendations on various e-cig forums. So, when I heard that Toby of www.iVapour-elixir.co.uk was going to be at UK Vapefest last month, I asked him to bring one along. In fact I asked him to bring two along, a silver one and a black one, which he duly did.
I settled on a silver one after much deliberation, partially because I acquired something else at the same time and fancied a bit of variety, but more on that some other time……
I've recorded a short Video Review to accompany this wordy review here.
Now, as mentioned previously, the Silver Bullet wasn't the only mod I acquired at Vapefest, and it's taken a great deal of commitment and chain-vaping to reach a stage where I'm happy that I have experienced the SB enough to provide any meaningful comment. It has been tough, but I feel I've reached that stage now so here goes.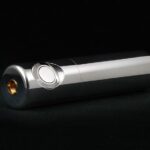 The Silver Bullet is a big mod, standing almost 11cm tall without an atomiser attached. With battery, it weighs in at a not insignificant 159g, so I think it's fair to describe the device as "substantial".
In my accompanying video review, I describe the Silver Bullet as "the ultimate Desktop PV", by which I mean that I find it a bit too big to carry around in my pocket (you certainly aren't going to use this thing discreetly incidentally), but I find it immensely practical when sat at my desk. The 26mm diameter of the tube base allows you to simply stand the  SB down without particular care, and equally grab it again when you want to use it. That makes it perfect whilst working or playing at the PC where I'm forever picking it up and putting it down whilst focussed on the screen. A simple thing, but a nice feature.
The Silver Bullet is recommended for use with a single Ultrafire 18650 (3.7v 2400 mAh) battery, two of which I also bought from Toby (along with a charger). These things are big, and take longer to charge than any of my other batteries so far, but in conjunction with the copper "hot" spring supplied with the device, they deliver power to the atomiser better than any other 3.7v device / combination I own and make for quite spectacular vapour production. At some stage, I'll try the 6v option using 2 x CR123As, but can't comment on that thus far.
The Good
I love the solidity of the Silver Bullet, and the way that I can almost carelessly bang it down on my desk without worrying about it falling over and rolling off when I'm busy at the PC. Although I've said that it's a bit big to be conveniently portable, the switch design does allow  me to shove the SB in my jeans pocket around the house without fear of accidental firing.
The 18650 battery in conjunction with a LR 510 Cartomiser packs a real punch and delivers fantastic flavour, vapour and throat hit every time with great battery life between charges. The option of 6v vaping is also a great selling point.
The Bad
Although I've not heard of any real issues with the switch mechanism, I do find myself a bit concerned about maintenance and repair of the switch should it be necessary in the future as the all in one attie connector and switch head unit does not appear to be user-maintainable.
Though I adore the heft and size of the Silver Bullet, a part of me wishes that it was a bit smaller so I had the option of carrying it in a pocket whilst out and about, but ultimately that's not what I bought it for and I suppose you can't have everything!
The Silver Bullet is not cheap, with batteries, charger, atomiser etc all NOT included in the price shown below.
Summary
The Silver Bullet is an attractive, fully functional mod that is made with real quality and delivers the goods. Despite it's size and shape, it's surprisingly ergonomic, with a solidly constructed switch that fires every single time.
Although the entry-level price is quite high, the Silver Bullet has an established track record for longevity and reliability that does to some extent justify the purchase price.
Many thanks to Toby at iVapour-eliixir for his permission to us his images of the Silver Bullet, which are far better than I anything I could do!