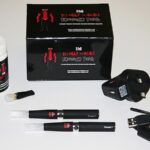 I am currently on a quest. I need an e-cig, or more precisely a juice container that will allow me to use my e-cig for longer than a traditional cartridge or cartomiser will allow before I need to top up or refill.
This is partly because I am lazy, but also for use in the car where I sometimes need to drive for several hours and topping up isn't really viable (or legal I dare say), without pulling over or stopping at motorway services for example.
The Tank system is a new attempt at solving this problem and the Totally Wicked branded Tornado-T will be available for purchase from 12th January 2011 via their website at www.totallywicked-eliquid.co.uk
I was fortunate to be sent the "T" free of charge in advance of the launch for this review and have given it an extensive workout before filming the review that follows.
I'm very impressed with the Tornado-T, with the atomiser performing much better than I had expected as someone who generally prefers Low Resistance cartomisers. Other than the the minor gripe about using thicker VG based liquids, the "T" has performed very well for me throughout.
There's no doubt in my mind that this offers a "low-faff" way of vaping and for the time being at least is my e-cig of choice for car journeys, however I do look forward to the day that a "Mega T" is available with a 2ml or even 3ml Tank.
It's a shame that the new batteries with the on/off feature aren't going to be shipped with the first kits (I'm not sure why that is, but suspect that the kit price may have been prohibitive if they were included), but it's definitely worth keeping an eye out for these when they are available too.
I suspect that my average daily juice consumption is a bit more than many, so the 1.2ml capacity Tank doesn't quite bring me to the end of my quest for the ultimate "driving system". However, it is a HUGE step in the right direction and I'll definitely be using one regularly.