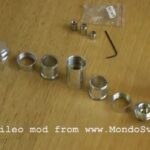 The Galileo is a mod that I'd been after for a long time before the availibility of stock and cash coincided in early April 2012.
With the help of Google Translate, I managed to place my order with Italian site MonoSvapo and it arrived a few days later (as I paid for the express postage).
You'll here reference in the video to the "liberal" use of Noalox applied to the mod before it was shipped, and I swear to you I wasn't exaggerating! It was 'orrible!
Once I'd scraped all of that off though, there was a lovely mod underneath and I've continued to use it plenty since this was filmed. The 801 connector comes in very useful with the Ikenvapes 801 Fuzion cartomiser too!